Our Practitioners:
Karen Moreland L.Ac. Dipl. OM
Owner, Acupuncturist, Chinese Herbalist, Reiki Master, Certified in Injection Therapy
Karen is a licensed acupuncturist, Chinese herbalist, and Reiki Master. A Colorado Springs native, she is honored to bring this medicine back to her home town.
 Karen is passionate about working with fertility, pregnancy, babies and kids. Helping everyone achieve health and balance physically, mentally, and spiritually. She also works with those experiencing difficulty with moving through and healing from trauma, anxiety, PTSD, and depression.
"I love this medicine because of its ability to bridge the gap between the physical, mental, emotional, and spiritual levels. It helps the entire individual progress."
Karen is also trained in cosmetic acupuncture. What she loves about cosmetic acupuncture is its ability to improve the look and youthful glow of the face, neck, and abdomen with less pain and side effects than with other types of cosmetic treatments.
She graduated from Southwest Acupuncture College in Boulder, Colorado with a Masters in Oriental Medicine. She is a Diplomate of Oriental Medicine, a Licensed Acupuncturist, and certified to do injection therapy in the state of Colorado. Her Oriental medical training includes thousands of hours in acupuncture and herbal class and clinic work at Southwest Acupuncture College, plus hundreds of hours of additional training in pediatric acupuncture, cosmetic acupuncture, fertility, and medical qi gong energy healing. She received her first degree Reiki certification in January 2009, and completed through the third degree by May 2009. She has been practicing reiki ever since.
Laura Clark L.Ac., Dipl. OM, Pharm. D.
Acupuncturist, Chinese Herbalist, Pharmacist, Reiki Master, Certified in Injection Therapy
Dr. Laura Clark is an NCCAOM Certified Acupuncturist and Chinese herbalist. She is also a Reiki Master. She received a Doctor of Pharmacy from the University of Florida in 2003 and a Masters in Oriental Medicine in 2013.  With 14 years of experience as a pharmacist and extensive knowledge in both allopathic and alternative medicine, Dr. Clark is uniquely trained to work with patients facing health challenges that require an integrative approach. Her decision to study Eastern medicine emerged from the realization that conventional treatments and drugs were not working for everyone, including herself. Through perseverance, the addition of holistic modalities, and significant dietary modification, Dr. Clark has experienced vast improvements in her own health and can attest to the benefits of holistic medicine based on first-hand account. She has dedicated her career to assisting her patients take control of their health through education and a novel therapeutic approach. Dr. Clark states, "Most people focus on only one side of the coin when treating disease, because that's all they know. And, not many physicians are trained to see this coin from all sides, but I am. I have a unique perspective. I am here to show anyone looking for help the other side of that coin."
In order to assist her patients to recovery, Dr. Clark uses her knowledge of specific drug interactions to apply Chinese herbal medicine and homeopathy in a safe way.  She has dedicated her career to assisting her patients take control of their health through education and holistic medicine.  She has been a guest lecturer at pharmacies and hospitals to discuss drug interactions, osteoporosis, migraines, and solid organ transplant medicines.  Dr. Clark specializes in drug- drug and drug-herb interactions, acupuncture, Chinese herbal medicine, homeopathic remedies, Reiki, and acupoint injection therapy.  Laura enjoys hiking, camping, cooking, puzzles, and is a creative gardener.
Braden Dunn L.Ac., Dipl. Ac.
Acupuncturist
Braden is certified as a Diplomate of Acupuncture by the National Certification Commission for Acupuncture and Oriental Medicine (NCCAOM), and licensed in the state of Colorado. He graduated with a Master's in Acupuncture and Oriental Medicine in 2019 from Dragon Rises College of Oriental Medicine in Gainesville, FL. While there, he learned a wide variety of treatment strategies including moxibustion, gua sha, cupping, electrical stimulation, Tui Na, Qi Gong, herbal medicine, auricular acupuncture, scalp acupuncture, korean hand acupuncture, Five Element acupuncture, Balance Method acupuncture, oriental food therapy, therapeutic communication, and lifestyle recommendations to treat conditions involving pain, internal medicine, cancer, depression, anxiety, PTSD and traumatic events, other mental/emotional issues, and general health. He was also fortunate enough to learn the Shen-Hammer Contemporary Chinese Pulse Diagnosis system, as well as channel palpation techniques.
Braden moved to Colorado Springs in February of 2020 to get closer to the mountains, and to get away from Florida's more humid environment. He is a veteran, having served in the U.S. Army for three and a half years, and deployed to Afghanistan with the 82d Airborne for Operation Enduring Freedom X. Upon receiving his Honorary Discharge, he began seeking a career in health and fitness and found his path in oriental medicine. He chose to pursue oriental medicine due to long held interests in martial arts and eastern philosophy. He had long been interested in Chinese energetic exercises, known as qi gong, and found himself utterly fascinated with the Chinese medical theories used in acupuncture and herbal medicine. While studying to attain his Master's he worked as a certified personal trainer, and put together workouts helping clients reach their goals and attain higher levels of health and fitness. Now, he endeavors to provide the best acupuncture treatments he can to his patients while always continuing to expand his understanding of the medicine.
Teresa Sullivan L.Ac. Dipl. Ac.
Acupuncturist, Certified in Injection Therapy
Teresa is certified as a Diplomate of Acupuncture by the National Commission for Acupuncture and Oriental Medicine (NCCAOM) and is licensed in the state of Colorado. She received her Master of Science in Traditional Chinese Medicine (TCM) from the Colorado School of Traditional Chinese Medicine in 2012. The program consisted of 2850 hours which included 450 hours of Chinese Herbal Medicine and 180 hours in advanced herbal clinic. Teresa is also certified to give acupuncture injection therapy. With Acupoint injections she can help clients with chronic and acute pain, chronic adhesions, scar tissue, and provide B12 therapy.
Teresa's favorite quote is "Chinese Medicine chose me". Because she never received acupuncture until she was in school, she learned medicine with different eyes. When she found out Chinese medicine treats the whole person, seeking to get to the root cause of an ailment, she enrolled in school without pause. This is what she has been called to do.
With a compassionate spirit and gentle technique clients appreciate, she puts those afraid of needles at ease. She has experience with treating a wide range of issues including: cancer, depression, anxiety, stress, women's health, fertility, digestive problems, allergies, PTSD, pain, migraines, sciatica, and insomnia. She believes acupuncture is a powerful modality for physical, emotional, and spiritual healing and growth.
Before becoming an acupuncturist, she worked as a sign language interpreter for Denver Public Schools for 10 years and loves working with kids.
She has trained with some of the best, such as Richard Tan, Jeffrey Yuen, Whitfield Reaves, Kiiko Matsumoto, Peter Deadman, Jeff Angel, and Lonny Jarrett.
Bridget Noyes LMT
Massage Therapist, Reflexologist, Reiki Practitioner, Polarity Therapy, Craniosacral Therapy
Bridget has been a licensed massage therapist, reflexologist, registered polarity therapy practitioner, Reiki practitioner, and Craniosacral therapist since 2013. Having gone through her own spiritual crisis and healing and come out the other side, she is no stranger to healing. That moment in her life sparked a strong desire to change her career and work with people from all walks of life to heal on many different levels. "I believe our work is never done. As we explore our passions with joy, the things that do not serve us will weave their way out of our lives, opening space for what is supportive."  
She loves to learn and continues to grow her understanding of the ability of the body, mind, and spirit to become aligned and heal on many levels. She has education in energy healing and Craniosacral Therapy, with certification in Reiki, Polarity Therapy, and Integrated Energy Therapy, outdoor survival, and herbalism. She has also studied and has certifications in therapeutic body work, reflexology, assisted stretching, deep tissue massage, prenatal massage, massage work with seniors, Ayurvedic massage, and yoga instruction. Bridget has a passion for adventure, she hiked the entire Appalachian Trail (2190 miles) and biked 100 miles to Key West. Bridget loves to explore, be outdoors, and dance. Her eventual goal is to hike across Europe. She consistently works to challenge herself, grow, and understand the rhythms of the human experience. "I love working with clients and being a part of their personal journey towards sustained wellness."
Marji Freymuth LMT
Licensed Massage Therapist, Certified in Thai Massage, Reflexology, Advanced Nerve Touch Healing Massage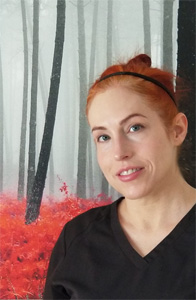 Marji has worked in healthcare-related jobs since 2000 and took a half year hiatus in 2007-2008 to live in Thailand, do volunteer work, and study massage techniques practiced there.  She was struck by the fact that massage has been considered an essential part of the traditional Thai medical system for over 2500 years.  She returned to massage school in 2020 so she could practice here in Colorado and rediscovered her love of therapeutic massage.
Through her own experience of physical trauma, she has learned the value of acupuncture and massage in alleviating chronic pain and dysfunction.  Her desire to help offer similar relief to others is informed by modern, evidence-based bodywork practices of the West and traditional, tried-and-true techniques of the East.
Our Support Staff:
Tiffany Vogel EMT
Client Coordinator
I recently relocated to Colorado Springs from Arizona with my husband and 12 year old son Hunter. We absolutely love it here in Colorado.  We love being able to enjoy the outdoors and changing seasons. I enjoy running outdoors, and hiking. I hope to one day have enough courage to attempt the incline. I have worked in the medical field for the past 11+ years as well as run my own office. I love learning new things. I had my EMT in Arizona and plan on getting in here in Colorado as well. I love working with people of all ages. Making a difference in someone's day is quite amazing, and something I strive to do daily.
I also enjoy giving back to the community through volunteer and charity work. Currently my husband and I volunteer and coordinate charity events for "The Children's Tumor Foundation". This event is for children and families affected by Neurofibromatosis. It is a rare disorder (1 in every 3, 000 worldwide) and currently there isn't a cure. As well as the "Shoot For Hope", which is an fun 3-D archery event for the whole family, and all the proceeds go to The Cancer Treatment Centers of America.  Both of these events are in Arizona, but I am working on also bringing them here to Colorado Springs as well.
Judy Lively
Billing Specialist, Office Supervisor, Client Coordinator
I am originally from Nebraska, and have been in Colorado for 16 years now, the last 6 in Colorado Springs.  I come to Generations Acupuncture with more than 5 years medical billing experience.  I changed career paths before moving here.  My prior career was with Leprino Foods as laboratory foreperson with specialized training in dairy, cheese and whey testing.  I trained numerous technicians and completed several training sessions. I have a degree in cheese making from Cal Poly Tech and certificate in Food Safety from KSU.  I am currently working on completing my AAPC coding certification.
My sons were in middle school when we moved here, and they both have completed college with bachelor's degrees.  Both of them were very involved in sports, with my oldest son competing in college Rugby.  My younger son was involved in band and was the high school mascot.  On our time off, my husband and I enjoy time outdoors, riding motorcycles and enjoying those mountains!  We like to travel and enjoy visiting friends and family, who live all over now.  I look forward to meeting and getting to know you all!