Our Acupuncturists:
Dr. Karen Moreland DACM, L.Ac., FABORM
Doctor of Acupuncture and Chinese Medicine, Licensed Acupuncturist, Fellow of the Acupuncture and TCM Board of Reproductive Medicine, Reiki Practitioner, Certified in Injection Therapy
Karen Moreland is a Doctor of Acupuncture and Chinese Medicine. She received her Master's Degree in Oriental Medicine (MSOM) from Southwest Acupuncture College in Boulder, Colorado in August of 2015. She received her Doctor of Acupuncture and Chinese Medicine degree from Pacific College of Health and Science, in San Diego California, in December of 2022. She was certified by the National Certification Commission for Acupuncture and Oriental Medicine (NCCAOM) in August of 2015. This includes certification in clean needle technique. She became a fellow of the Acupuncture and TCM Board of Reproductive Medicine in March of 2023.
A Colorado Springs native, she is honored to bring this medicine back to her home town.
 Karen specialties in women's health, fertility, health during pregnancy, and acupuncture and Chinese Medicine for pediatric patients.  She also has additional training in cosmetic acupuncture, scalp acupuncture, five-element acupuncture, distal acupuncture, Japanese moxibustion treatment, and diet and lifestyle recommendations. She is certified, in the state of Colorado, to do acupuncture and trigger point injection therapy.
Acupuncture and Chinese medicine helped her improve her own fertility and now she works with others to improve theirs. She enjoys working with women, children, and their families. In her free time, she enjoys spending time with family, hiking, running, reading, painting, playing oboe and piano, and making ceramics.
---
Stephanie Salinas MSAc, L.Ac., Dipl. Ac
Master of Science in Acupuncture, Licensed Acupuncturist, Certified in Injection Therapy, Cosmetic Acupuncturist, Trained in Micro-needling, Cosmetic Cupping

Hi, I'm Stephanie and I'm a licensed acupuncturist in Denver, Colorado and in Colorado Springs, Colorado.  I found the ancient modality of acupuncture through a personal struggle with emotional balance and well-being. After months of talk therapy in conjunction with acupuncture, I was able to triumph and regain my energy and enthusiasm about life. I found a renewed sense of purpose and decided to go back to school.
I earned my Master of Science in Acupuncture from the Colorado School of Traditional Chinese Medicine in December 2020. This 28 month program consists of 2,370 hours of education including 555 hours of clinical practice. I was certified as a Diplomate in Acupuncture by the National Certification Commission for Acupuncture and Oriental Medicine (NCCAOM) in September 2021. This includes certification in Clean Needle Technique. My training includes therapies and specialties such as: cosmetic acupuncture, headaches and migraines, pain, fertility acupuncture, electro-acupuncture, moxibustion, Tui-na, gua-sha, acupressure, cupping, auriculotherapy, dietary and lifestyle recommendations.
My treatment specialties include migraine, weight loss, facial cosmetic acupuncture and cupping, emotional balancing, and body pain. I have treated hundreds of patients with shoulder, QL, low back pain and knee pain with a high degree of success. My passion is making your life better and giving you the tools to self heal.
---
Our Chiropractor:
Dr. Zosia Roberts DC, Webster Certified
Dr. Zosia Roberts is our newest addition to the Generations team as our very first Chiropractor! Dr. Zosia
has been working and living in Colorado Springs since April 2022. She is following in her family's footsteps as the 5th chiropractor in the family which includes both her parents, aunt and uncle! She grew up in Landenberg, PA, right outside of Delaware where her parents still live and practice. Dr. Zosia has been an avid athlete since childhood, playing field hockey all throughout middle and high school and into college where she joined Liberty University's Division 1 team her sophomore year. She still enjoys the occasional adult pick-up game with a local group.
Dr. Zosia received her Bachelors of Science in Exercise Science from Liberty University in May 2018. In March 2022, she graduated summa cum laude from Palmer College of Chiropractic in Port Orange, Florida with the distinction of academic excellence and was awarded Salutatorian of her class. Throughout her time at Palmer she was President of the campus's chapter of the International Chiropractic Pediatrics Association. The team she led hosted weekly meetings covering topics of women's health, pediatric, and perinatal chiropractic care. Dr. Zosia is experienced in utilizing a variety of chiropractic techniques including Diversified, Gonstead, Activator, Thompson, Sacral Occipital Technique, Webster (prenatal), TRT (torque release technique), MC2, as well as soft tissue therapies such as IASTM (instrument assisted soft tissue technique) and MRT (muscle release technique). She is also trained in providing therapies such as kinesio-taping, therapeutic cold laser, cupping and rehabilitation exercises.
After deciding to pursue a career in healthcare, Dr. Zosia knew she wanted to help people in a hands-on way. She thought, "What better tools to use than my own two hands?" Chiropractic was the obvious choice, after all she's been getting adjusted since she was born! Dr. Zosia loves all the different ways chiropractic can be applied to facilitate the body's innate healing. She is most passionate about women's health and pediatrics but also loves caring for the whole family!
When she's not in the office, you can find Dr. Zosia staying active with various fitness platforms, exploring the mountains, and spending time with her sweet pup Tessa! She is loving Colorado life and always up for new adventures.
We can't wait for you to meet Dr. Zosia as we welcome her to the Generations Team. She is eager to meet you all and have the privilege to care for our community.
---
Our Massage Therapist:
Marji Freymuth LMT, CNMT, CMMP
Licensed Massage Therapist, Certified Neuromuscular Therapist, and Certified Medical Massage Practitioner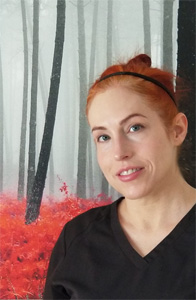 Marji has worked in healthcare-related jobs since 2000 and took a half year hiatus in 2007-2008 to live in Thailand, do volunteer work, and study massage techniques practiced there.  She was struck by the fact that Thai massage, which can trace its roots back 2,500 years, has long been considered an essential part of the traditional Thai medical system.  She returned to massage school in 2020 so she could practice here in Colorado and rediscovered her love of therapeutic massage.
Modalities she has certification in/experience with: Swedish Massage, Thai Massage, Reflexology, Lomi Lomi Massage, Prenatal Massage, Lymphatic Massage, Deep Tissue Massage, Facilitated Stretching, Gua Sha/IASTM, Hot Stone Massage, Cupping, TMJ Treatment, Aromatherapy
---
Our Support Staff:
Tiffany Vogel EMT
Client Coordinator

I recently relocated to Colorado Springs from Arizona with my husband and 12 year old son Hunter. We absolutely love it here in Colorado.  We love being able to enjoy the outdoors and changing seasons. I enjoy running outdoors, and hiking. I hope to one day have enough courage to attempt the incline. I have worked in the medical field for the past 11+ years as well as run my own office. I love learning new things. I had my EMT in Arizona and plan on getting in here in Colorado as well. I love working with people of all ages. Making a difference in someone's day is quite amazing, and something I strive to do daily.
I also enjoy giving back to the community through volunteer and charity work. Currently my husband and I volunteer and coordinate charity events for "The Children's Tumor Foundation". This event is for children and families affected by Neurofibromatosis. It is a rare disorder (1 in every 3, 000 worldwide) and currently there isn't a cure. As well as the "Shoot For Hope", which is an fun 3-D archery event for the whole family, and all the proceeds go to The Cancer Treatment Centers of America.  Both of these events are in Arizona, but I am working on also bringing them here to Colorado Springs as well.
---
Judy Lively
Billing Specialist, Office Supervisor, Client Coordinator

I am originally from Nebraska, and have been in Colorado for 16 years now, the last 6 in Colorado Springs.  I come to Generations Acupuncture with more than 5 years medical billing experience.  I changed career paths before moving here.  My prior career was with Leprino Foods as laboratory foreperson with specialized training in dairy, cheese and whey testing.  I trained numerous technicians and completed several training sessions. I have a degree in cheese making from Cal Poly Tech and certificate in Food Safety from KSU.  I am currently working on completing my AAPC coding certification.
My sons were in middle school when we moved here, and they both have completed college with bachelor's degrees.  Both of them were very involved in sports, with my oldest son competing in college Rugby.  My younger son was involved in band and was the high school mascot.  On our time off, my husband and I enjoy time outdoors, riding motorcycles and enjoying those mountains!  We like to travel and enjoy visiting friends and family, who live all over now.  I look forward to meeting and getting to know you all!